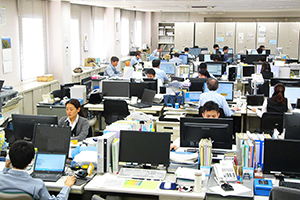 Aiming industry standard system
Our business is specialized in pharmaceutical and cosmetic industries. We are aiming industrial standard system and developing the system obeyed on national laws and ministerial ordinances.
ISD Division proprietary HP link
ISD Division is a computer system development of Hodensha Co. Ltd..
We are developing as a powerful partner for proceeding IT promotion at pharmaceuticals and cosmetic industries manufacturing factories.
Our products and services are developed and obeyed on national laws and ministerial ordinances.
1. pharmaceutical GMP (Abbreviation of Good Manufacturing Practices, manufacturing management and quality management standard),
2. ER/ES Policy (Abbreviation of Electronic Records and Electronic Signature, the use of ER and ES are denoted),
3. CSV (Abbreviation of Computerized System Validation, Computerized System Appropriate Administration Guideline)
Based on our original developed package products, we correspond to customer's full stage requirements. These are initial proposal based on customer's operation as appropriate, requirements definition, FIT and GAP analysis between requirements and package products, functional design, detailed design, internal test, factory acceptance test, installation qualification (IQ), operational qualification (OQ), and operational support.
Our system integration is sometimes cooperated with System Engineering Division, whose specialty is FA control, in process management system and data acquisition system etc. cooperated with local site manufacturing facilities.
The division is not so large but the size is appropriate for the customer to fit their requirements into the realization to customize flexibly, where our reputation is evaluated.
General Manager
Hideyoshi Nagashima
Business Profile
Pharmaceuticals and Cosmetics Manufacturing Factories Solution
Production Management System [SMRi]
Laboratory Information Management System [Expert LiMS]
Printing out check System [HQ8100]
Directing and Weighing System [QBLAX-SS2]
Process Management System
Other manufacturing factory solution
Management system based on PC Hardware, i.e., data acquisition system, process control system and warehouse management system etc.
Design

We confirm the scope of package product applied and the functions required by FIT and GAP analysis within several customer meetings in the early stage of system integration, and we decide the policy applied for the customer requirements to implement.

Development

Based on functional specifications and design specifications documentation approved, we proceed following stages, i.e., detail design, programming and unit test.

Installation

Hardware installation is performed in the customer's site connecting various interface devices physically, and the HW unit performance confirmation is done based on IQ (Installation Qualification) planning document. Then, the confirmation, that the integrated system against specifications demonstrates correct operation of functionality that supports the specific business process throughout all specified operating ranges, is performed based on OQ(Operational Qualification) planning document.

Substantial support

Our support covers full line of customer's business, i.e., from integration introduction support to operational support. We support that customer can make use of system operation with no-problem, trusted, and effective results, where the customer planned and make it possible to reach the goal they intended.
Contact Us to the Intelligent System Development Division
Telephone Number:
+81-54-626-6621
Business hour 8:00-17:00(JST)
FAX Number:
+81-54-626-0808
24-hour reception

Access
4F, Headquarter Building, 357, Echigoshima, Yaizu-Shi, Shizuoka, 425-0092 JAPAN