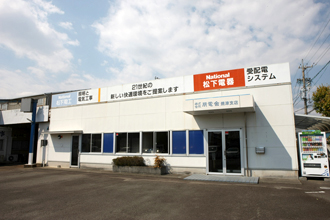 Yaizu Branch of Hodensha is reliable for home electrical installation and maintenance due to the short distance from customer to our office. We are local oriented and you don't worry about the maintenance even in after-construction stage.
We are flexible and warmly for the electric installation . The people's connection is respected and we are eager to listen to customer's voice and respond the request.
We are an expert of general electric installation for daily life. Our service provided are varied from an individual home electric installation to enterprise electric installation. Our staff has ample knowledge and know-how and responds carefully to your request.
Branch manager
Shinji Tsuchiya
Business Profile
We provide the installation work, where the electric appliances is used at home safely. The proposal with ECO function and new functional products, sales, installation and repair services are provided. Lighting devices at office, shop or factory became economical when the LED devices are applied instead of fluorescent light and mercury light etc. LED light devices are economical and long life product. We have simulation formula how you can save the money compared with current conventional light, and make economical proposal. Please contact us without reserve.
Design and construction for electric facilities installation, ventilation and air conditioning facilities installation
Design and construction for weak electric current facilities installation, i.e., TV antenna, interphone and monitoring camera etc.
Design and construction for home solar power generation system (HEMS) facilities installation
Registered construction agent as Chubu Electric Power Company
Contact Us to the Yaizu Branch
Telephone Number:
+81-54-629-0555
Business hour 8:00-17:00(JST)
FAX Number:
+81-54-628-9811
24-hour reception

Access
6-12-7, Yaizu, Yaizu-Shi, Shizuoka, 425-0026 JAPAN