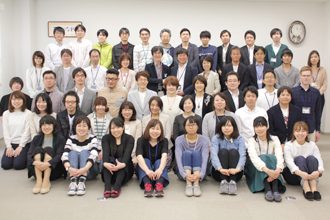 IT enterprise with company philosophy "Technology with user-friendliness"
Sunloft propose "Cloud", trendy business administration system and Web system
Sunloft Co. Ltd. proprietary HP link
Sunloft was established on 1992. Within 20 more years, technologies that changed our life style and business style drastically has been introduced, i.e., Personal Computer, Windows, internet, social media and smart phone etc.. Sunloft will provide trendy IT system and send a message intimately to our customer as "how technologies and services are useful and effective in business daily life.".
President
Toshitaka Matsuda
Business Profile
Web site production and operating support
Business system development
Cloud environment integration, iPhone and iPad sales
IT Training and call center
Sales promotion
IT support for kindergarten and nursery school computerized operation
Web site production and system integration for solving issues and/or achieving goals

First, we listen to customer's voices carefully to grasp tangible and/or latent issues and problems. Second, by use of IT, we set the final target and try to solve issues and achieve goals through mutual discussions and customer's proactive contribution.

Sponsoring business enterprise IT proactive seminar

Running Cloud computing

Sunloft utilize typical cloud service Google Apps™ on 2010 and iPad on 2011for all employees to use daily work. We propose most suitable cloud system for customers by use of our know-how.

76,000 newspapers issued for 11,000 kindergarten and nursery schools over Japan

IT newspapers specially focused for nursery nurse named as "

Pastel IT newspapers

" is monthly issued for the kindergarten, nursery school, and schools for nursery nurse training all over Japan.
Contact Us to the Sunloft Co. Ltd.
Telephone Number:
+81-54-626-3366
Business hour 9:00-18:00(JST)
FAX Number:
+81-54-626-3371
24-hour reception

Access
436-1, Yanagiaraya, Yaizu-Shi, Shizuoka, 425-0074 JAPAN